Ozona Trace is a lovely community in the waterfront village of Ozona Florida. Ozona has been incorporated into Greater Palm Harbor Florida. Ozona Trace is a newer subdivision on the cul-de-sac of  Bay Street. Built between 2004 and 2010, these homes are all two-story with three or four bedrooms.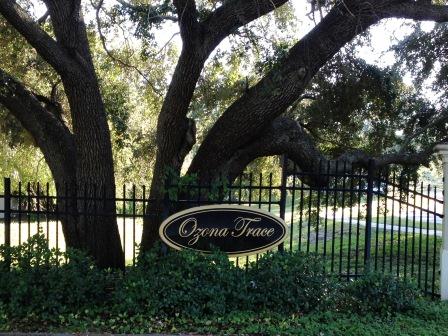 Ozona is a wonderful place to live. Here you can drive your golf cart throughout town or walk to the post office and numerous fantastic restaurants. This is indeed Florida living at it's best! Tampa International Airport is within a half hour's drive and the beaches of Honeymoon Island State Park are a short drive, off Dunedin Causeway. The Pinellas Trail runs through Ozona and connects Dunedin to the south with Crystal Beach to the north. The Pinellas Trail is 47 miles of hiking and biking paradise!
Ryans Woods Townhomes of Ozona Florida – Homes for Sale
Ryans Woods Townhomes are located on Ryans Woods Lane in Ozona Florida, which is incorporated into Palm Harbor Florida. These lovely three bedroom, 1600 sq ft townhomes have garage parking at street level and the living area built over the garages. This is necessary since Ryans Woods Townhomes have canal access to Sutherland Bayou and the open waters of the Gulf of Mexico. Anything built this close to the ocean must comply with the new building codes and these townhomes began construction in the late 1990′s.
Zoned for some of the best schools in the county, Ozona is a small waterfront community that is within minutes of the Pinellas Trail and the beaches at Honeymoon Island State Park. The Ryans Woods townhome community offers a community pool and with the open water access via the canal, it is a great place for canoe and kayak owners. There is also a private boat ramp in the community.
To find out more about Ryans Woods Townhomes or to begin your search for a home in the Ozona/Palm Harbor Florida area, give me a call today!
Burghstreams Townhomes are located on Orange Street in quaint little Ozona Florida. These 3 bedroom 3 bath townhomes were built in 2006 and feature granite countertops, stainless steel kitchen appliances, laundry room and oversized two car garages.  This great little community that is only blocks to the shores of St Joseph's Sound and the Gulf of Mexico beyond, has it's own private community pool located under the live oak trees. 
Ozona Florida is incorporated into Palm Harbor Florida. This once sleepy little fishing village has not lost it's charm. Here you can stroll the streets and enjoy time with friends at one of the local restaurants. Be sure to check out Ohana Cafe and Ozona Blue Restaurant! The Ozona Pig has the best barbecue around and they even make their own secret sauce!
Convenient to Honeymoon Island State Park, the Pinellas Trail (for over 47 miles of biking and hiking pleasure) and the numerous marinas in and around Ozona, this is a wonderful place to call home. To find out more about homes currently on the market in Ozona or Palm Harbor Florida, give me a call. If you are considering selling your Ozona or Palm Harbor Florida, ask me about obtaining a free market analysis.