Fred Howard Park – Tarpon Springs Florida
Fred Howard Park in Tarpon Springs Florida is located along the shores of the Gulf of Mexico and the park's beach is actually an island that is connected by a mile long causeway to mainland.
The park is 155 acres of tropical paradise that includes nine picnic shelters and six restroom facilities. If you are interested in reserving one of the shelters for a birthday party or other event, be sure to make your reservations early since our local parks are popular venues for such events. That is due to our year-round blue skies and sunshine. Everyone loves taking advantage of the excellent weather. Two playgrounds, a ball field and launch areas for your kayak are also available in this family orientated park.
The beach offers pure white sand and bathing in the sparkling waters of the gulf. There are shower and restroom facilities on the island as well as plenty of parking. Fishermen enjoy fishing off the south side of the island, where there are rocks. Please be sure not to disturb the sea oats as they are protected by law.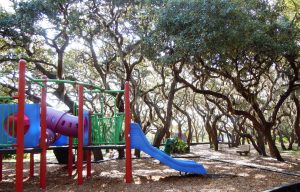 Back on the mainland, you can enjoy hiking through the park where you can observe many native animals and birds in their natural habitat. It is not unusual to see osprey, eagles, fox squirrels and tortoises in the park. Naturally, the shoreline is teaming with fish and many varieties can be found in the nurseries among the mangroves that are native to this section of Florida. Please remember that if you are going to be fishing from shore, you will need a Florida fishing license to be in compliance with the law. A license can be purchased at any driver's license office or on-line. The Fred Howard Park  is open from 7 am to dusk and you want to remember to bring your camera! You will be glad you did. This is indeed a fantastic park for the entire family to enjoy.