crystal beach florida homes for sale
Pricing Your Home For Sale – What Is Involved?
Pricing your home for sale is something that Realtors do on a daily basis and why you need to work with a Realtor.
Your Realtor will first take a complete inventory of what features your home has to offer. Naturally the number of bedrooms and bathrooms as well as the square footage plays a role in the price but there are so many other factors that are involved. Have you updated the kitchen and bathrooms? How about those appliances? How old is the air conditioning system? Did you just get a new compressor or was the entire system replaced? How about the roof? How old is it and when you updated the roof, did you do it recently enough that it meets the newer hurricane safety standards? The same applies to the cage around your pool – is it up to par with the latest code for hurricane winds? These are just some of the things that are going to assist in determining the list price.
There are many other factors involved. The flooring is extremely important. Most people today do NOT want carpeting in any rooms except perhaps the bedrooms. I remember in the sixties; shag carpeting in the bathrooms was the thing. Today people realize that carpet hides so many organisms that they generally don't want it in the house. When was the last time the house was painted – inside and out? What do the gutters look like? How about the landscaping? Great landscaping can make the difference between getting people out of the car and into the house! That first appearance DOES count!
This may sound like an enormous laundry list but they are ALL items your Realtor takes into consideration when pricing your home for sale. Remember, this information as well as what other homes in the area have sold for within the last six months, is all combined to reach that magic number. It is a process that takes a little time and the better you have cared for your castle, the higher that number is going to be.
Listen to your Realtor when suggestions are offered on things you can do NOW to increase the selling potential of your home. We do this daily and know what we are talking about! There are many things you can do to make showing your home flow seamlessly. Crate those pets, clean that litter box daily, keep the trash cans out of sight and empty, the kitchen should be spotless. Sound like a lot? Your Realtor wants you to get top dollar. Work with a Realtor. Together you can be a winning team that will get your home SOLD.
Crystal Beach Florida – A Wonderful Place To Live
Crystal Beach Florida is a wonderful place to live and play along the coast of the Gulf of Mexico. Little Crystal Beach was founded in 1912 by Mr. Avery and Mr. Rebstock of Crystal Beach in Ontario, Canada – hence the name 'Crystal Beach Florida'.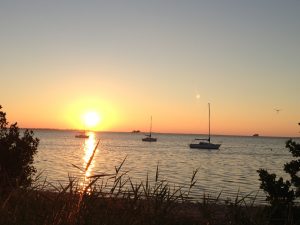 Dr J.D. Hanby  and Mr. A.D. Powers took over the development of our little town and laid out streets shortly thereafter. The Crystal Beach Development Company was thus formed and development in this little seaside community began. There wasn't much going on in this little village when our beautiful Live Oak Park was named. The park used to have a fountain and a fish pond.
Faith Mission relocated to Crystal Beach Florida from Tampa in 1928. This mission was home to as many as  eighty orphaned children. The mission took over the vacant three story building that had been the Blue Heron Hotel (since demolished) up near St Joseph's Sound.
The Crystal Beach Community Church was built in 1948 and is still used today! Located across from Live Oak Park and right along the shore, this beautiful building with the little lighthouse in front is a central point of the community.
At one time the railroad stopped in Crystal Beach Florida. That railroad has since been turned into the Pinellas Trail, a favorite playground for bikers and hikers alike! The Pinellas Trail runs north and south through Pinellas County, covering more than 47 miles.
To begin your search for a home here in beautiful Crystal Beach Florida, give me a call! I live right here in Crystal Beach and grew up locally.