Fred Howard Park – Tarpon Springs Florida
Fred Howard Park in Tarpon Springs Florida is located along the shores of the Gulf of Mexico and the park's beach is actually an island that is connected by a mile long causeway to mainland.
The park is 155 acres of tropical paradise that includes nine picnic shelters and six restroom facilities. If you are interested in reserving one of the shelters for a birthday party or other event, be sure to make your reservations early since our local parks are popular venues for such events. That is due to our year-round blue skies and sunshine. Everyone loves taking advantage of the excellent weather. Two playgrounds, a ball field and launch areas for your kayak are also available in this family orientated park.
The beach offers pure white sand and bathing in the sparkling waters of the gulf. There are shower and restroom facilities on the island as well as plenty of parking. Fishermen enjoy fishing off the south side of the island, where there are rocks. Please be sure not to disturb the sea oats as they are protected by law.
Back on the mainland, you can enjoy hiking through the park where you can observe many native animals and birds in their natural habitat. It is not unusual to see osprey, eagles, fox squirrels and tortoises in the park. Naturally, the shoreline is teaming with fish and many varieties can be found in the nurseries among the mangroves that are native to this section of Florida. Please remember that if you are going to be fishing from shore, you will need a Florida fishing license to be in compliance with the law. A license can be purchased at any driver's license office or on-line. The Fred Howard Park  is open from 7 am to dusk and you want to remember to bring your camera! You will be glad you did. This is indeed a fantastic park for the entire family to enjoy.
Caladesi Island State Park – Dunedin Florida
Caladesi Island State Park is a completely natural island off the coast of Dunedin Florida that comprises over 650 upland acres of land and more than 1800 acres of grass flats and mangroves. To get to Caladesi Island you must travel by boat. The Florida Park's Department makes that possible by having a ferry connecting Honeymoon Island State Park to Caladesi Island State Park. The ferry runs hourly during the winter months and every half hour from mid-February to mid-September.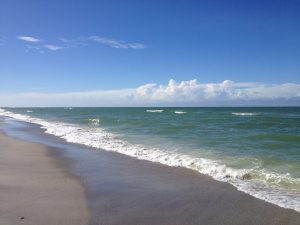 Once you get to Caladesi Island State Park, you can enjoy over three miles of nature trails for hiking, over three miles of relatively empty beach for your bathing pleasure, restrooms and showers in the pavilions that are provided by the park service and some of the best shell collecting opportunities around! Caladesi Island State Park also offers shaded picnic and grilling areas, a children's playground, a snack bar and gift shop. Naturally, there are also fantastic fishing areas and kayak paddling trails through the mangroves. Don't have your own kayak? No problem, the park offers kayak rentals as well as chair and umbrella rentals. There is even a marina that offers electric and water hookups!
If you are interested in boat camping on Caladesi Island, you need to make reservations. It is possible to make reservations up to 11 months in advance and it is indeed a good idea to take advantage of these advance reservations to get the time slot that you are after! Everybody loves camping on this pristine island that offers the sounds of the waves breaking on shore to lull you to sleep. You can come with your own boat (up to 40 ft in length), tie up to your reserved dock slot and enjoy a night or several nights of memorable camping on Caladesi Island State Park! You can also bring your private boat over to the island and dock for the day to use the beach, café and facilities. To dock for the day (no overnight boat camping) the fee is $6 (up to 8 people can be on the boat). So there are several ways to enjoy this great park!
Honeymoon Island State Park – Dunedin Florida
Honeymoon Island State Park located just off-shore from Dunedin Florida, is indeed breathtaking year round!
To get to Honeymoon Island, one takes the Dunedin Causeway and travel's west. The gate opens at 8 am daily, 365 days a year, and remains open until sundown.
Here you can not only enjoy beautiful sandy beaches, collect magnificent seashells and bath in the sparkling waters of the Gulf of Mexico, but you can also bring your pet pup and romp in the doggie park! There is a specific doggie park complete with shower area for poochie!  Pets must remain on a 6 foot leash at all times while in the park. They have really thought of everything here.
If you would prefer taking the ferry over to Caladesi Island, the ferry launch is also within Honeymoon Island State Park.
No need to bring lunch since the park has a restaurant. There are also restrooms and showers at the pavilions. You can enjoy hiking the 2.5 mile trail through the Osprey nesting area of slash pines or walk over 4 miles of breathtakingly beautiful shoreline! There are picnic and grilling areas, kayak launching areas as well as a playground on the north end of the island. Kayaks, beach umbrellas and beach chairs are also available for rent at Cafe Honeymoon or at the Honeymoon Pavilion. You can call 727-736-2132 for more information.
Be sure to check out the Nature Center to learn more about the island's history, as well as about native plants and animals. If you decide to go fishing, remember that you do need a fishing license, even for shoreline fishing!
Honeymoon Island State Park is a wonderful place to enjoy our great seashore. Open every day of the year, it is my personal favorite place to go to the beach as well as to collect seashells to decorate the home and garden.