hidden lake of palm harbor florida real estate
Blue Sink Of Palm Harbor Florida – Now Part Of Hidden Lake Subdivision
Blue Sink of Palm Harbor Florida was once a popular swimming hole. Those who grew up here remember being able to go swimming in Blue Sink back in the 1950's, 60's and 70's. The sink hole is 190′ deep and the kids used to swim and dive down there. The majestic live oak trees at the water's edge provided a place to hang a swing and the limbs were great diving platforms!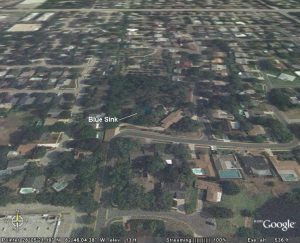 Back then, the area was surrounded by orange groves and the kids got there via their bikes. With a shot gun slung over his shoulder, my partner Ron used to go there with his buddies to cool off after an afternoon of target practice once they got out of elementary and middle school. That was in the 50's and 60's, when nobody thought anything about a kid on a bike with a shotgun over his shoulder. They were boys just being boys.
During the 1980's the property was developed, homes were built (the Hidden Lake Community was established) and the property around Blue Sink was purchased. This property consisted of just under three acres of land with the fabulous Blue Sink in the middle. A three bedroom two bath home was built, fences put up and that was the end of the kids being able to swim in the sink hole.
While the Hidden Lake Community of Palm Harbor Florida does have a great public park on a large lake complete with tennis courts and playground, it would have been great if the developers had included this land into the public park area. Perhaps one day the land will be returned to the public. In the meantime, the only views to the public are aerial and the only swimming done in Blue Sink is done by the Koi Fish that call it home.