John Chesnut Park On The Eastern Shores Of Lake Tarpon – Palm Harbor Florida
John Chesnut Park is located on the eastern shore of Lake Tarpon in beautiful Palm Harbor Florida. 
This 255 acre waterfront park was built in cooperation with the US Army Corps of Engineers. Home to three fantastic nature trails, playgrounds, picnic areas, picnic shelters, restroom facilities, a horse shoe pit, fenced in doggie park and a public boat ramp with access to Lake Tarpon, this is one park you don't want to miss!
Lake Tarpon is five miles long and over a mile wide. It is home to large bass as well as our Florida gator. Fishermen love fishing this lake but remember that you do need a Florida fishing license to fish from shore or boat. 
The park is also home to deer, raccoon, hawks, osprey and many other creatures. With miles of boardwalk along the shores of the lake and through the swamp areas that connect to other hiking trails, this park offers enjoyment for the entire family. Just remember to bring your camera so you can capture memories you will never forget!
John Chesnut Park is one of several magnificent local parks here in Pinellas County Florida.
A.L. Anderson Park On Lake Tarpon – Tarpon Springs Florida
A.L. Anderson Park in Tarpon Springs Florida is located on Lake Tarpon's western shore and offers excellent boating access to this magnificent 3.906 square mile lake. Opened in the mid-1960's, this 135 acre waterfront park offers the perfect destination for the active family. Here you can enjoy nature trails and boardwalks through the natural fauna. Your camera is a must since the views of Lake Tarpon are breathtaking. What better place to bring the family to grill and enjoy a picnic. There are playgrounds
for the very young and for the older children as well. The park does require reservations for the picnic shelters and you want to make those party reservations in advance since this is an extremely popular destination.
The public boat ramp opens at 5 am, so the early bird can launch and be out on the lake catching bass while others are still sipping their coffee. Naturally, the ramp stays open late as well, closing at 10 pm.
There is a great doggie park as well, so you can bring poochie to romp with friends in the enclosed area.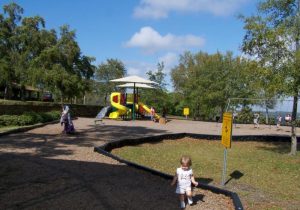 Owners are required to supervise their pets and clean up after them as well. All dogs must be on a leash when outside of the enclosed doggie park area. The enclosed areas include water fountains and showers to cool your pets off during those hot summer months.
Anderson Park is accessible via US Hwy 19, just south of  Tarpon Avenue, on the east side of the road. The park is open 7 am to dusk, year round. It is a wonderful destination whether you are spending a few hours or the entire day. This is one of the numerous beautiful parks available to residents of northern Pinellas County, which includes the areas of Tarpon Springs, Palm Harbor and Dunedin Florida.